About Us
Dear Purchasing Professional,
Since purchasing IB & M in 1998 it has become my personal mission to provide Chicago and the Midwest with what I felt was lacking when I was a buyer: A tube fabricating company that is committed to being responsive to the demands of today's business conditions.
IB & M is committed to answering your quote requests within 24 hours. We know the right questions to ask when quoting your parts. Questions that will save you money and get you orders.
IB & M Tubular Products has been bending tubing since 1923 (formerly know as Illinois Bending and Mfg). Throughout those years we have gained the expertise to provide our customers with quality tubular components in a timely manner at a cost effective price.
ALL WE DO IS TUBING!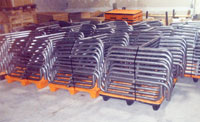 We have 8 horizontal mandrel bending machines, 3 vertical compression benders and 2 roller benders for those large radius tube forms. We also have a full time tool room staff at your disposal for samples and specials. Our latest acquisition was an NC controlled mandrel bender that can bend up to 3" OD tube. I would be glad to give you a tour of our facility at your convenience.
We can supply you with individual components or complete assemblies. Please call or fax us a drawing for your next fabricated tube or pipe requirement. I think you will find our pricing to be very competitive.
Thanks again for taking time to review our web site. I look forward to working with you in the future.
Sincerely,

Ed Przybyla